5 Sexy Reasons Why Lube is Your Best Friend!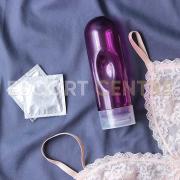 Believe it or not, there once was a time when lubricant didn't make the great-sex essential list. However, nowadays, lubricant represents one of the most beneficial and pleasure-boosting tools to have in your home.
Out of all sex props, lubricants contribute the best to emphasizing your sexual arousal and providing a much more pleasant and exciting bedroom fun. If you haven't been keen on using lubricant as part of your foreplay or general sex play, here are 5 reasons why you absolutely need it!
1. Goodbye Dryness!
The most common reason why lubricants make a great addition to sex is that they help with vaginal and penile dryness. Although dryness can happen due to various reasons, lubricant can help create enough wetness to get your body ready for sex. One thing to remember about using lubes, however, is that they are not clinically regulated, so always go with recommended brands to avoid chemical or toxin-packed products.
2. Boost the Sensation!
Especially when you are wearing a condom! Using lube without a condom can definitely trigger your sensual spots and lead to greater arousal. In that same way. Lube also provides a variety of sensations when used with condoms and ensures you feel every ounce of pleasure during penetration. Keep in mind that lube doesn't last forever, so reapply it as necessary to cause less friction in the condom.
3. All the Flavours!
Aside from regular lubes, there are also flavoured ones which can contribute to higher sexual sensations. Flavoured lubricants are ideal to use during oral sex, as they boost the experience with a pleasant texture of strawberry, vanilla or any other flavour you prefer. Also, flavoured lubes can come in handy when you don't want to use sugar-rich foods during sex, such as whipped cream or honey, but still want to get a pleasant flavour out of the experience.
4. Intimate Massages Anyone?
Aside from using lubricant for penetration, you can also use it as part of your erotic massager foreplay. Your hands and fingers make superb massage tools, but it can all feel even better when you have some thick and gliding lubricant to spare.
5. Get Your Sex Toys Ready!
Sex toys don't self-lubricate and you can change that sensation by using a generous amount of lube! Whether a vibrating or a penetrating toy, a pump of lubricant will create a bigger erotic intensity and a wide range of sensations. That said, know that silicone lubricant doesn't go well with silicone-made toys, so do your research to find which lubricants work perfectly for your sex toy collection.
Source: https://www.dusk-magazine.com/8-reasons-to-use-lubricant/
For more weekly blog vist the weekly blog at Escort Centre.